Wow! I can't say enough about this specialist. Not only does Dr. Javidan treat you like family and do a great job, so does her staff! It's like her passion and warm heartedness is infectious.
Illusions F. Palo Alto, CA
I needed a root canal and was referred here by my general dentist's office. Dr. Javidan is calm, professional, smart, patient, conscientious, and highly qualified. She took the time to tell me about the procedure and make me aware of my options. The process turned out to be pretty painless.
Charlotte L. Mountain View, CA
Dr. Javidan was excellent! This was my first root canal, it was completely pain free. I've had fillings done at other locations that left me more incapacitated afterward than this root canal. She's very friendly and professional, explaining what's going to be done and exactly why, without wasting time.
Dmitriy A. Menlo Park, CA
My Dentist says I need a root canal. Now what?
1. What is root canal treatment anyway?
"Root canal" is the term used to describe the natural cavity… more
2. Tell me more about Javidan Endodontics.
Dr. Javidan received her dental degree from Northwestern… more
3. I am ready how do I make an appointment
We see patients for consults to diagnose endodontic pain… more
Meet Dr. Javidan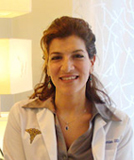 Dr. Javidan received her dental degree from Northwestern University Dental School in 1998. She then served in the National Health Service Corps at the Cherry Street Dental Clinic in Grand Rapids, Michigan, for two years, where she emphasized on pedodontic dentistry and oral surgery patient care. During this time Dr. Javidan was active… more